As a continuation segment from my original searching for an HG pencil liner, lip balms, and just about any beauty product have a long standing list with me as being both necessary and worth the search
Today's topic: Lip balms
Are all lip balms created equal? no way! But with price variances ranging from .69 cents to $60 dollars the range is huge, so here is a little abridged guide to some of the ones from my past
I too, have fallen for the trap of cheaper convenience lip balms (which I love!) and the draw of higher end lip balms for those interested in that market.
Here are my thoughts on some of the stand out's I have tried (Good and Bad)
Burt Bees Lip balm:
Waxy, minty, available everywhere, now in an arrange of shades, tints, and flavors. The only negative is the lack of SPF
MAC Tinted Lip Conditioners: I like these! Ok those who hate pot forms wont, but I like the subtle amount of color, spf factor, and the tub will last you quite a while. It also smells like vanilla which I don't love but its not over bearing, it's also smooth and easy to apply! They also sometimes come out with nice Limited Edition ( of course) shades
Bon belle Lip Smackers in Dr. Pepper: This product has sentimental value so I may be biased but I love the smell, the slight red tint, the smoothness, along with the price. Been buying this since I was 13 and will never stop!
Rosebud Salve:
I bought this because I thought the packaging was cute. Going to be honest. It took me YEARS to get through my one. I never repurchased again. Though many people hate the sanitary factor of these vintage looking tins, the new tube kinds are available, but this was a no for me. Felt a bit like Vaseline, rose scented at least, and did not last long on my lips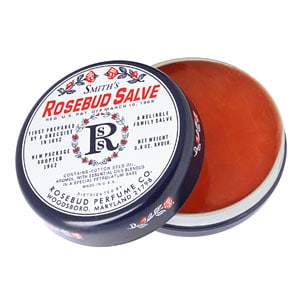 CarMex:
IM SORRY for those who love this stuff but
I JUST DON'T GET IT.
I've tried the pot form, the tube form, and the squeeze tube form. All different textures, all hate. Left my lips more chapped, felt like it was rubbing off my lips upon application, and the squeeze kind was like Vaseline again so slid off. This will always be a mystery to me in regards to it's cult following
Blistex Silk and Shine: Waxy, I thought all blistex was wonderful till I tried this one. They are all not created equal. At least it has SPF.
By Terry Baume de Rose:
Yes, I bought this. I was in one of those manic shopping days where everything is yes yes yes! Thankfully those days are far and few. I have used about half the tub of this and I AM going to use it all but I personally don't think its worth the price. It smells gorgeous, like roses, it has a very stick to your lips texture! When I apply it at night I feel it the next morning but the price, dear lord the price, far too high for what this is.
Elizabeth Arden 8 Hour Cream: A celeb favorite. I got mine at Marshalls by the way…this like the By Terry, I apply at night and feel it the next day, except I personally think this is more hydrating. I also think it looks and feels like honey, but smells like a plastic factory.
If I were to repurchase one of these two, it would be the 8 hour cream, I have a huge tube instead of the jar so this is going to last me eons, but I would repurchase this. Not HG, but a nice night treatment.
It's no surprise if you read my blog my favorite is the Blistex in the Blue Tub. OK, "Lip Medex"
Honestly everyone I have told about this and have tried it LOVE IT. Just heals cracked lips and is smooth and nourishing. Yes it's in a pot which is not ideal, but the product love is so high I don't care. The availability and price has me in love for the the rest of forever!
So tell me
What's your favorite?