Sunday...The Sunday post... this morning I realized absolutely nothing happened to me this week
outside
my baby cousins birthday party but my iphone says otherwise!
My recapped week
My
favorite new accessory recently purchased from Zara
The item I found when shopping my stash and loving, I think this is an Asia exclusive?
Make up achievement of the week, was hitting pan on Well Dressed. Adding to the pathetically proud pan collection
New Purchase of the week
Flowers of the week! My cousin is a florist and sometimes sends us some left over "stock" so sometimes our house looks like this, my poor brother who has allergies...
Most drool worthy but proudly avoided cart of the week, Belgian waffles people!
New restaurant I tried this week, Empanada Mama (ehhhhh.....)
Best architecture of the week
Easily the fanciest TJ Max I have ever seen
Best food of the week, fried lobster stir fry!
Cousins Birthday Recap, he turned 1! and he is so squishy cute at the moment!!
Today all I did was go to the gym but afterwards, I spotted these in Victoria's Secret... do they look familiar to another brand?? Because they do to me!
When searching for bargains which I suck at, I spotted this
Famous bloggers in the dressing room move, but now you will see why I stink at shopping sales
WHERE IS MY WAIST??? Ugh...
And the worst new product I have tried this week
This really hurt my lash line during application!
WHEW ok, alot of photo's so now onto some text
Things currently on the brain!!
Re doing my make up organization again, and probably having another blog sale...
These containers look nice, but how come there is only 1 container store in all of New York??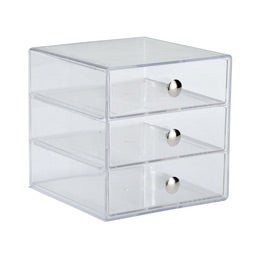 Chanel's Emerveille
I keep passing this, swatching this, and saying "NO" not until I finish the countless amount of Champagne cream shadows I own, but this one is peachy
:(
Blogging
Lack of sunshine means no new blog photos, but since blogging everyday last month, it feels weird not to do it daily anymore! lol
I have re kindled the love, and want to blog far more often!
Make up Ban
Another possible ban...but I heard there is a Sephora sale in April? Is this true? Maybe I should wait until April...(lol naughty of me)
Lastly, the video playing on repeat (and where I learned about the containers)
Into The Gloss' Make up Routine
Hope you all have a wonderful week!!
Thank you for reading about mine!