Disclaimer:
Now, I don't want anyone to begin to believe that I myself think I am an expert in office wear.
I'm not.
This will be a short guide to all the things I have learned thus far in my office career.
Hopefully these posts will be of assistance to either people beginning their first job in an office, someone changing their field to a more corporate environment, or simply someone who needs some new motivation on what to wear.
Believe me, it can be fleeting at times!
When I started working all I owned were black trousers and shirts from Express. That's just what I assumed everyone wore.
Sort of.
This depends on office culture but I soon found myself on a floor full of women wearing Express button down shirts.
I hated hiding in my cube all day hoping no one would notice five other women bought the same top as myself in the exact same shade - damn you sales!
I then began attempting to create a more elevated work wardrobe.
No, I don't mean I spending the big bucks, believe me in the beginning you don't get it!
But just a change from the main stream.
So ladies
Here are my lessons learned thus far.


Category 1: Shoes
The weakness of many of women. Thankfully I have never been much of a shoe person. I have always found myself going through several pairs a year and attempting to repair mass amounts of holes miles of walking created before settling to buy another pair.
I actually hate shoe shopping for the office.
The shoes pinch, the color scheme is limited, the heels are restrained, and the toes are covered.
Despite all these boundaries I have learned of a few favorites, and key ideas to always keep in mind when shopping for a new shoe.
The Flats
I live in a commuter city. Women here WALK. Up and down stairs, bypassing plenty of people to make it to the office on time, and walk so fast the soles of the shoes go down pretty soon.
Flats are something I can't live without in my work wardrobe. I live in them to commute to work, I change in them for a quick walk to grab my lunch, and relax in them at the end of the day when the clock strikes DONE.
My personal favorite flats are from J Crew. They come in a myriad of colors but I have always purchased the classic black ballerina.
Now these are not exactly cheap. Especially when you are not used to spending so much on ballerina flats.
Well here is the abridged version on why these remain my favorite.
Made in Italy, meaning better material and construction, aka no break in period.
There is nothing more painful than spending the whole day in a new pair of shoes that are killing your feet, we are talking bleeding level people. Band aids, soles, tissues, whatever you need to do to ease the pain.
If I can find shoes that escapes me from this two weeks of excruciating pain period, I will take it!
Flats generally tend to tear at the skin at the back of your foot so have your band aids ready on day one, or give these a try.
I generally try to buy these at the J Crew outlet, but if that doesn't happen, I usually pay full price because I know I will go miles in these without feeling the pinch.
I walked in these shoes through four countries - a singular pair!
Name Brand Flats
Something I don't own.
I never banged out the big bucks for these babies but if I ever did, I would stick to wearing these on mainly carpeted surfaces and trying not to leave the building. The side walks are harsh on such lovely shoes.
The Pumps
The quintessential office lady shoe.
Women in my office, and I am guilty of this too, have a wave of random pumps all over the bottom of their cubicles, or hidden away in their drawers. Come in wearing flats, examine your outfit and go through your little office "collection" to see what shoes we need today.
If you are starting out basic, meaning you have no shoes for the office.
Grab yourself a black pair of pumps asap.
They will match almost everything, and will be your go to shoe for a while until you begin to collect more for your everyday wear.
I wear black pumps 99% of the time, so you don't need to buy many shoes, but pick one that you can deal with wearing most of the time.
General tips:
*Nothing too high. Don't try to out height the other women in your office, many offices offer a dress code which includes heel height. Three inches and below is preferable. Safety is two inches.
*Don't pick a super pointy tip. If your heel height is lower and you pick a very pointy shoe, when wearing pants your feet can look longer, and if wearing skirts your calves may have the appearance of being wider.
Also, it has been noted that men for some reason are apprehensive of women in pointy shoes, psychologically to be deemed more approachable try a more rounded toe. Men...
*If these are your first and only office heel, try not to get sling backs. If you are not accustomed to certain shoes, a sling back may sling off you throughout the day leading to non stop frustration.
Pointy Toe
Rounded toe
Once you have your black go to shoe, the general rule is to add a nude pair to the mix.
Following the same tips as above for the black, once your nude shoe has been found those two basics should cover nearly all circumstances, but if you wish to continue your shoe collection, brown, suede textures, and animal prints are all popular add ons!
Nude shoes in pointed and rounded toe
Name Brand Pumps
Another thing I don't own but am surrounded with daily.
Ladies, before you wear those gorgeous $600+ shoes on anything that looks remotely rough aka the side walk, please get your shoes to a repair guy and have some soles added- they even come in red!
I have seen from personal experience a person wearing her a new Louboutins across the street to show me, SCUFFS! from walking across the street! Don't let this happen!
Sorry Victoria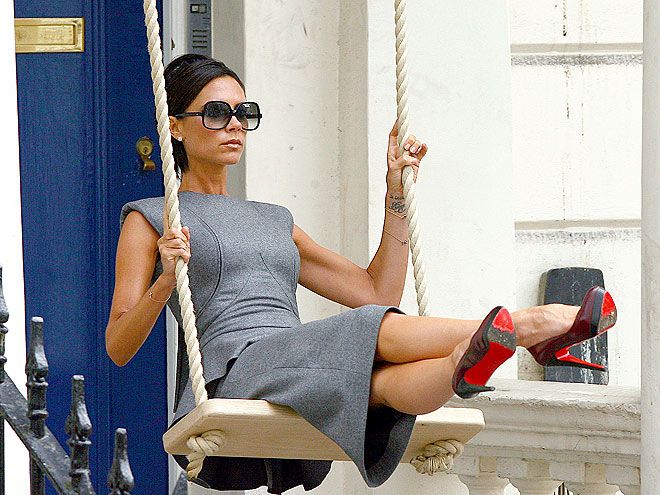 Boots
Cold weather comes a calling and we strive for those long WARM boots to keep our feet and legs toasty through the harsher conditions.
Classic Boots
My personal style leans more towards the classic boot.
Preferably in a cognac or black color to match most of your wardrobe.
These types of boots fit snugly into pants, and look classic with both pencil skirts and A line skirts with tights underneath.
Depending on your foot or leg shape try to find boots that are narrow or wide according to your foot width, and if you have thicker legs ( like me!) look for things stating "Wide calf" and adjustable buckles.
Certain materials such as suede also stretch if you are having trouble finding a leather pair.
Heeled Boots
These are not really my style but I have seen many women rock them.
I think they look far better paired with skirts than pants. They create a very confident look when paired with skirts, and most body shapes can pull off the look.
When paired with pants, they can unfortunately create the sausage leg effect T.T I would definitely try them on in the store with a very tight pair of pants. Not only to ensure the material fits within the boots, but to make sure you like what you see in terms of overall effect of your lower body as this can really cinch in your legs knee down, so knee up looks a bit more "free" we can call it.
Weather Boots
This will depend on where you live but for rainy cities, the Hunter Boots are the best investment I had made in a long time. It has rained at least once a week here since October. As a recap, it is now April the so called rainiest month of the year.
I pretty much have worn my Hunters at least once a week for thus far 6 months.
Bang for my buck I did! Never leaked, comes in a plethora of shades - I would opt for a safer color when considering the office.
I used to own no brand cheaper ones, but they always broke with holes when I wore them leading to a very rained upon Lil Lady!
No regrets on this purchase!
Summer Sandals
Not all, but many offices in the summer seem to frown on open toed shoes.
No point in getting that incredible shade for your pedicures because your toes are covered up!
Since many sandals are either flat or open toed I think a very compromised solution are espadrilles.
Most come in wedge form, open toes and closed.
These are both seasonal and cooling to wear on warm days.
These also look great with both pants and dresses.
Again, all the information listed above will of course vary depending on how conservative your environment is, or how lax your work culture is on their version of a dress code but I hope this was helpful to my fellow OL's the next time you go shoe shopping.
If there are any other OL topics you would like me to cover please feel free to send me suggestions!