In my family, from my culture, told by my mom; skincare is serious business.
The earlier you start in life the better you preserve yourself.
At the age of 14, I began investing and started my very own skin care routine.
I tried all sorts of acne products from the drugstore, I went through a high end phase, I attempted the natural and organic products only aisle, and after years of acne, spot lightening gels, early winkle creams, and numerous face devices aimed to preserve aka pickle myself to retain youth, I have come up with ten tips/lessons, I had learned over the years.
1. Don't Deviate
Those who are not new to my blog will most likely be able to tell skin care routine. The repetitive empty bottles of the same products comes up in every empties post to the point where I no longer need to describe how I feel about them anymore. They are the only skin care products I use and re use, because they work for me and keep my skin happy.
For years I experimented with washes, toners, treatments, and moisturizers always thinking of the next best thing. Some things worked, some made my skin worse, and you know what happened after years of experimentation?
My skin became sensitive. Uber sensitive and it was my own self doing. Gahh! *Waving fit*
All the random products I kept spreading on my face changing every few months did my skin no favors.
No more!
I now stick to what I know and though sometimes it gets boring buying them again and again, having clear skin NEVER gets boring.
Why keep trying new products when you already know what works for you and always works.
I really don't care if my products are cheap or expensive, whatever works I buy.
Luckily for me, my face seems to not mind somewhat cheap.
2. Keep it simple
I used to have one of those "Asian" skin care routines with the 10+ products all layered on top of each other. It works for some people ( my mom ) but not for me.
Wash, tone, and moisturize. In the daytime add a spf, a little bit of an eye cream, and a spot treatment when nasties poke their heads.
That's it.
No essence, no water bank emulsions, no promises of an oasis for your skin.
Keep it simple and your skin will be happy.
3. Wear sunscreen

I've worn sunscreen everyday since I was 16. If I go out and whether it rains or shines I wear sunscreen. Even if I'm home and the sun is very strong in my house i'll slap some on.
Everyone differs on when the sunscreen regret occurs, but I know doing this early and enforcing this habit will save me $1000's in the future on correction creams.


Sunscreen can be found in the drugstore for $10 dollars and last 6 months to 1 year.
Please clip the coupon if necessary and make the investment.
My favorite budget version is the Nuetrogena Sport Face Sunscreen
Favorite everyday sunscreen is the La Roche Posay
Favorite high end sunscreen is the Dior Snow
4. Wear a mask
With masks I have always been lazy. Be it sheet, clay, or cream but I have been trying very hard to remember to treat myself to this once a week and it does seem to help. I always do it on Sunday after my bath. Seems like a proper pamper day to start the week off right.
Favorite mask of the moment: Origins Clear Improvement
Second favorite: Lush's Mask of Magniminty
Budget Option: Queen Helen's Mint Julep
5. Invest in exfoliating
The Clarasonic is one of the best things I ever purchased towards my skin care.
No, it did not cure my acne which was the original reason for purchase, but after so many years of use, I cannot see myself without.
The overall tone and condition of my skin has improved so much from the device that I use it every night without hesitation.
I have found the method described
here
works best for me.
With the concentrated brush I see my pores diminishing, it's fabulous and worth the hard earned moolah for the device.
6. Ditch the wipes
If you use make up wipes regularly, I urge you to please cease the mass consumption.
I used to hate wipes but used them after work if I attended the gym a few times a week. No harm, outside the few brands that made my face sting ( Neutrogena, Yes to Cucumbers, and Simple ironically) and thought it's ok. It's only a few times a week.
Ever since buying an overpriced mini Bioderma just for the bottle to tote around to the gym, I have seen a decrease in my spots dramatically.
Seems the wipes were doing a lousy job -though my skin did look clean, I started using Bioderma in the gym and saw visible improvement.
The wipes left make up in my pores clogging them and not leading them to be the skin I wanted.
Now I all the wipes I've accumulated mostly to wipe counter tops.
Wipes if you do need them for SOS situations I like are: Olay and Garnier
7. Go make up free
Letting your skin breathe is giving your skin a much deserved break. If you are a minimal gal and go make up free often KUDOS to you! I only go make up free once a week ( if that- I know that's so bad) but when I do, I drink more water and let my skin relish in all the rest it requires.
8. Drink Water, Sleep More, Eat better
You are what you eat ladies. We all know the recipe for clear skin, WATER, fish, veggies, sleep- quite a simple routine which many of us lack ( I too, am raising my hand) A good tip I have for consuming more H20 is drinking it from a straw. Studies have shown people who drink water out of a straw drink far more than in a cup or bottle. As silly as it sounds, invest some time in your perfect water container. I bought several straw BPA bottles to settle on the one from Starbucks! I'm just the most familiar with that type of cup but once you find your perfect vessel, you will be guzzling away!
Stick if on your desk at eye level and watch the bottom appear!
9. Purge those Pores out
If you feel like your skin is congested, purge it and don't be afraid.
Bring on some steam, and make those pores open up. You may have a pimple or so in the next few days - maybe more, but better it just come out than stay under neath your skin for weeks causing pain and dullness no? Not to mention incredible frustration...
10. Don't Fret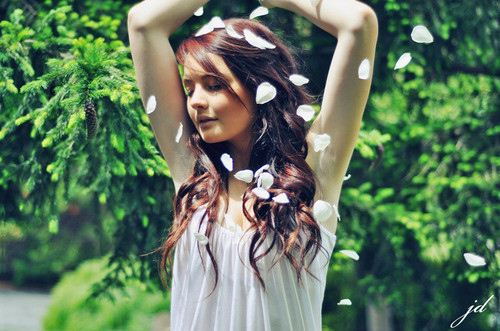 Lastly, if something does pop it's ugly head, don't worry about it. I know that's harder to do than say but believe me when I say, no one sees it as obvious as yourself.
(It appears massively larger in our heads when we are in high school)

Whatever you do, do not, please do NOT pop your pimples.
Pimples last a few days, those scars lasts months to years.
The world is selfish we are all so self conscious of our spots, hair, clothes, weight, that someone else having a problem doesn't seem to register to every one's so just leave it be, spot treat it at night, water consume all day to flush it out, and add some highlighter to fake a glow!
That's it!
Years of skin care experimentation to find out clear radiant skin is actually quite simple.
I'm just a bit lengthy with the verb age myself :)